Free downloadable coloring pages for students, teachers and families featuring works from SMA's Permanent Collection
Lee Greene Richards, Grandma Eldredge's House, SLC, oil on canvas
Look closely at this house. What do you see? What kinds of flowers do you see? Who do you think lives in this house? This painting is of Lee Greene Richard's grandmother's house. As you color your picture think of someone you love, where do they live? What does it look like? Can you color your picture in a way that reflects their personality?
James Taylor Harwood, Boy and Cat: My Little Son, Heber James (Boy with a Bun)
This painting of Utah artist JT Harwood's son Heber James is a museum favorite. What do you think happened right before the moment captured in this painting? What do you think happens right after? As you color your own picture make up a story about Heber and his cat. What kind of things do they do in a typical day?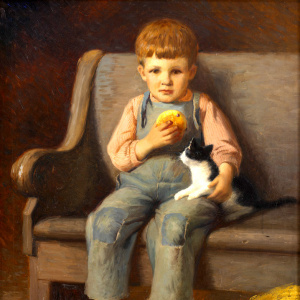 John Hafen, Hollyhocks, oil on canvas
This painting is beloved by Museum visitors and staff alike. Hollyhocks are an interesting flower because they bloom annually but for a relatively short period of time. They grow tall and beautiful where they are planted. As you work on your hollyhocks coloring page think about the symbolism of hollyhocks. What other things in life could they represent? Think about other flowers you like, what makes them unique?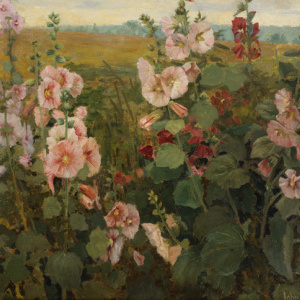 Martin Lenzi, Aquarium Shells, oil on board
How many different shells can you find in this still-life by Utah artist Martin Lenzi? Which one is your favorite? Why do you think a Utah artist in 1895 would paint this elaborate scene of ocean plants and animals? As you paint think about a still-life you could make -- what types of objects would you include?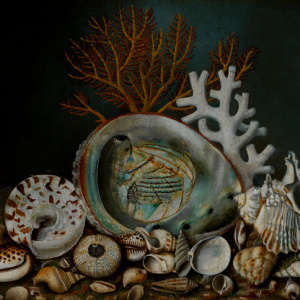 Carlos John Anderson, Ballerina Balancing, mixed media
A ballerina balances on one leg while she stands atop a structure of balancing rocks or boulders. This abstract painting by Carlos Andreson depicts multiple kinds of balancing! While you are coloring your own version think about what colors to use. Do you want the colors to seem off balance or do you want to balance them out? Search online for a color wheel example and try different color schemes: complimentary, warm or cool colors, or primary or secondary colors to balance out your coloring page.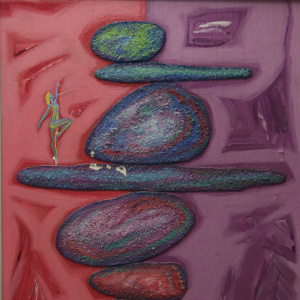 Lee Greene Richards, The Copper Pot, oil on canvas, 1910
Lee Greene Richard's The Copper Pot features a still life of vegetables, flowers, and a big copper pot. What meal do you think the artist was planning to make? What are your favorite recipes to make with your family? Think about all the different foods you could make in your copper pot as you color this new SMA coloring page! Share your colored pages with us on social media by using the hashtag #SMAMuseumFromHome
J. Leo Fairbanks, Dancers at Old Saltair, oil on canvas, c1920
This study of dancers at Old Saltair captures the joy of dancing at the old Saltair resort on the Great Salt Lake. This coloring page was created by Steve and Tonya Vistaunet for the Museum's 2019 Art Ball. As you work on this coloring page imagine what kind of resort you would design if you were the architect. Where would it be? What would it look like? Who would come? Share your colored pages with us on social media by using the hashtag #SMAMuseumFromHome