Art Collections
The Springville Museum of Art (SMA) boasts a collection of over 2,600 works of art from three artistic concentrations: Utah, Soviet Russian, and American art.
Utah

SMA has a magnificent collection of Utah art, with over 2,000 paintings, drawings, prints, and sculptures ranging from early pioneer to contemporary works of art. The collection grows each year through donations and purchases, and it displays Utah's history, culture, and landscape.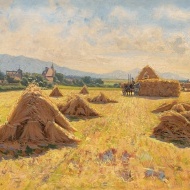 Russian

The Museum houses the largest public collection of twentieth-century Russian and Soviet art in the western United States. These remarkable works, mostly in the Soviet impressionist and Soviet realist styles, deal with political, social, and economic aspects of the former USSR.
American

The Museum has a fine collection of American realist paintings and sculpture from 1900 to 1960. Young students from Springville schools and the Steed family were primarily responsible for establishing this small but poignant collection of realist art.